Tuesday, July 7, 2014    0830
Pre-Sail Briefing: Clements Creek Marina off the Severn River
Lex Birney, Skipper
Edward Parry
Pete McKenna
Ted Dessasaure
Duncan Hood
Bill Howard
Weather Forecast:
Chesapeake Bay from Sandy Point to North Beach MD
SOUTHWEST FLOW WILL PREVAIL OVER THE WATERS TODAY. A COLD FRONT WILL APPROACH THE WATERS TONIGHT AND MOVE INTO THE AREA WEDNESDAY. THE FRONT WILL LINGER ACROSS THE WATERS WEDNESDAY NIGHT BEFORE INCHING SOUTHEAST DURING THURSDAY. HIGH PRESSURE WILL BUILD ON FRIDAY.
Today SW winds 10 to 15 kt with gusts to 20 kt. Waves 2 to 3 ft. A chance of showers and tstms this afternoon.
Tonight SW winds 10 to 15 kt with gusts to 20 kt. Waves 3 ft. A chance of showers and tstms.
0942 hours
underway. Severn River bound and will head North up the Bay to the Delaware Canal and the Delaware River.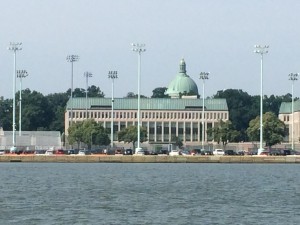 1500 hours
making 9 knots straight up the bay 20 -25 knot winds out of the South. Spinnaker set. Crazy fast. Will be at the Delaware Canal by 1600 hours. 30 minute watches.
Chesapeake and Delaware Cana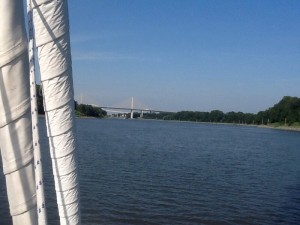 The Chesapeake and Delaware Canal is 14 miles long. Considered the divide between north and south Delaware and the Delmarma Penninsula. Reduces the water route between Philadelphia and Baltimore by 300 miles.
It was conceived in the late 1700's. Ben Franklin and Benjamin Rush rekindled the idea in the 1788. Construction began in 1804 which included 14 locks. Halted two years later so to lack of funds.
Construction resumed in 1824 under the Army Corp of Engineers. 1829 the water way was opened for business at a cost of 3.5 million dollars.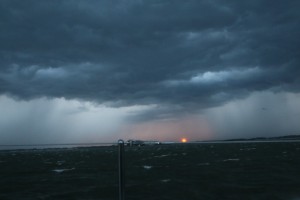 2100 hours
On the backside of the storm front. Pretty impressive blow. Maybe 70 knot winds. Arcadia and crew are awesome. AIS (Automatic Identification System) allowed us to communicate precisely with two massive tankers at the narrowest part of the river at the peak of the storm. Visibility was maybe 25 yards.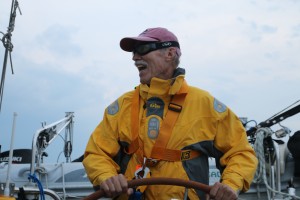 Almost to the ocean and heading outside. All is well.
Stay tuned. First photos forthcoming.