It was a bumpy ride on choppy seas in a fast boat between Cape Lookout National Seashore and the mainland last week as Hurricane Cristobal passed by a few hundred miles offshore. But Ray wanted to chat anyway. My husband John and I were the only other passengers on the last ferry leaving the island for the day. We had tacked on a quick visit to the Cape Lookout lighthouse after spending the morning kayaking around the Rachel Carson Estuarine Reserve off the seaside town of Beaufort, North Carolina. We hadn't had as much time as I'd hoped, but with only one day left on our summer vacation I wanted to squeeze in the lighthouse somehow. Ray, on the other hand, had lived here all his life.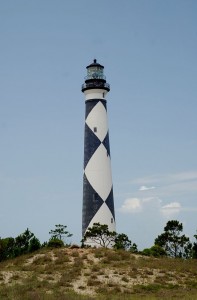 "My family's been here for six generations," he said over the roar of the engine. "We're thinking about staying," he joked, mocking seriousness until his ebullient smile through again. As we bounded over the waves, he shared more details about his life on the water – his family's former house on South Core Bank (now incorporated into the National Seashore), his several boats on which he spent much of his retirement time these days. And he wanted to know about us. Do we still work and what do we do? When I told him I write about environmental issues his smile deepened.
"I spend a lot of time in the Bahamas," he said. "And we fought when they wanted to discharge sewage into the water." He even met his wife (I think – it was hard to hear over the wind and the engine) while fighting that battle. They had both been traveling to the Bahamas separately for years and knew a lot of the same people, but had never actually connected until united in this fight. Back home in North Carolina, he's also fought offshore wind farms that locals feared would be neglected after their useful life and fall into the sea as industrial waste. Some argued that such waste would provide useful habitat for fish (and no doubt some environmentalists would applaud efforts to move away from fossil fuel). But Ray feared the long term damage caused by leaving large structures unaccounted for in the ocean.
I asked him what he thought about recent proposals to explore for oil off the coast of North Carolina and other East Coast states. "I don't like it," he said. "Locals don't like it – both Democrats and Republicans." Ray's a Republican. I asked him why locals oppose oil development– was it because of the potential impact of an oil spill on tourism? That's part of it he replied. "There's a whole lot of reasons," he said simply, and looked off into the distance.
I surrendered to the spray and the noise and gave up asking any further questions. Yes, there are a lot of reasons why a community that depends on clean coastal waters would fight to keep them clean. When I stood on the wild beach at Cape Lookout earlier that afternoon, I felt grateful to the visionary conservationists of the past who fought to preserve these barrier islands in a National Seashore so that I could enjoy them today. And returning to the mainland now, with only one day left on my summer vacation, I was glad to meet someone working to keep those waters clean so that someday I might enjoy them again in the future.