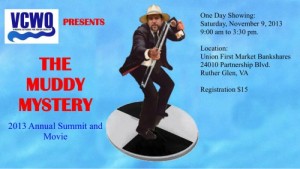 Come to the Virginia Citizens for Water Quality (VCWQ) Water Summit this coming weekend and be inspired.  The Downstream Project's (TDP) Executive Director, Bill Howard, will be giving a keynote talk along with C Spout Run partners Nesha McCrae of Virginia's Department of Environmental Quality and Seth Coffman of Trout Unlimited.  They'll outline how the C Spout Run partnership is rallying the local community to remove Spout Run from Virginia's Impaired Waters list.  Through omnimedia communication tools such as a video journal, TDP is helping this unique effort document and share its progress with other citizens' groups, and become a model for other communities.
The presentation, entitled "C Spout Run: Inspiring Successful Watershed Planning in the Shenandoah Valley" will be just one part of a full day of talks, breakout sessions and even a movie presented November 9  at Union First Market Bank Shares in Ruther Glen, VA.  Check out the full day's schedule here  and view a trailer of the Mystery of Muddy Mayhem movie here.
Virginia Citizens for Water Quality holds annual summits to help bring citizen water quality monitors together, share knowledge and experience, and coordinate efforts.   You can register  for the 2013 summit online or contact Anna Mathis at amathis@allianceforthebay.org  (804-775-0951) for more information. .