The U.S. Department of Agriculture (USDA) shared some encouraging news last week:  Its most recent analysis of conservation programs in the Chesapeake Bay watershed show that new farming practices are reducing sediment and nutrient loading into waterways.  Federal programs promoted through the USDA Natural Resources Conservation Service (NRCS) as well as state, local and private programs have helped farmers voluntarily adopt more water-friendly techniques.  That's the good news.  Here's the bad news: Many of the federal conservation programs expired in October.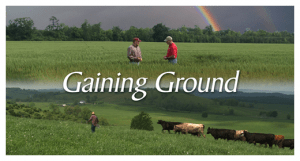 USDA used a combination of farmer surveys and computer simulations to compare farming practices from 2003 – 2006 with those in 2011 and estimate the benefits to water quality.  They found that since 2006, farmers have increased their adoption of conservation tillage, cover crops, continuous no till, and structural practices to control water erosion and trap sediment and nutrients.  Although USDA didn't track how these practices translate into water quality goals for the Bay, they did find that the techniques have reduced nitrogen loss from agricultural fields by 26%, phosphorus loss by 46% and sediment loss by 60% (enough soil to fill 150,000 rail cars).
But even more can be done.  The report showed that application of nitrogen fertilizer increased since 2006 and the amount of acreage receiving appropriate application rates, timing and methods on all crops declined.  Application figures for phosphorus fertilizer were largely the same as in 2006.   Overall, USDA determined that almost half of the crop acreage in the region could further reduce its loss of sediment, nitrogen and phosphorus from fields.
Agriculture Secretary Tom Vilsack attributed a lot of the recent gains to conservation programs initiated under the Chesapeake Bay Watershed Initiative, a program created in the 2008 federal Farm Bill to provide farmers with technical and financial assistance to implement conservation practices.  The five-year Farm Bill expired this fall and Congress continues to battle over its renewal.
Regardless, The Downstream Project will continue helping partners like NRCS and Chesapeake Bay Foundation (CBF) reach farmers who can make a difference whenever we can.  Check out our Gaining Ground videos featuring Virginia farmers who practice conservation tillage, and our Farmers to the Bay video featuring CBF's unique program to bring farmers and watermen together.   These projects show that farmers care.  Thanks to USDA and the Chesapeake Bay Watershed Initiative, we know that with the right tools they can make a difference.