I should have known him better – or rather, known of him better. Pete Seeger, iconic American folk singer for decades, died Monday night at the age of 94. Those who care about rivers also know him as the founder of the Clearwater, the Hudson River sloop he built to spread the word that the dirty Hudson needed help. I grew up in the Mid-Hudson Valley, not far from Beacon, NY where Seeger made his home. In 1969 , the year Seeger launched the Clearwater, I started kindergarten. Throughout the 1970s my family regularly crossed Hudson River bridges to head west into the Catskill Mountains to go camping or hiking. Hundreds of feet below us and a mile wide at that point, the Hudson seemed huge and untouchable. Its majesty struck as soon as the tires hit the bridge, the green highlands rolling off into the distance, tiny boats far below, and the ubiquitous railroad tracks hugging the eastern shore heading north out of Manhattan 70 miles away.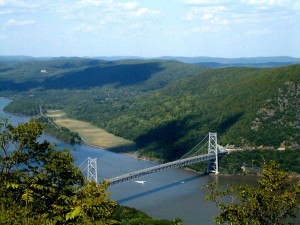 Crossing the river always signaled adventure, but on the ground it was far removed from our lives. Access was limited, and given the pollution levels then – raw sewage, oil pollution and toxic chemicals — perhaps that was just as well. Pete Seeger set out to change that.
He decided to build a replica of the Dutch sloops that sailed the river in the 18th and 19th centuries to draw people to the river, learn to appreciate it and want to preserve it. Together with friends and his wife Toshi, he made the Clearwater more than a sailing ship. He made it a potent force for change — including passage of the Clean Water Act in 1972 — and an enduring symbol of environmental commitment. Today Hudson River Sloop Clearwater, Inc. is a nonprofit conservation group that brings school kids (and others) out onto the river, teaches them about its ecosystem and fosters a desire to protect it. I wish I was a school kid now.
The Hudson is doing better these days. The raw sewage of the sixties is gone and a years-long cleanup of PCBs is underway. But the conservation group Environment New York reported in 2012 that the Hudson was still the 24th most polluted river in America, largely because of industrial chemicals. And despite the Clean Water Act, many other rivers throughout the country remain unswimmable and unfishable. I never had the opportunity to meet Pete Seeger when I lived along the Hudson, or learn about the river on a class trip. But I thank goodness that, although its founder has passed, the Clearwater sloop and all that it stands for sails on.