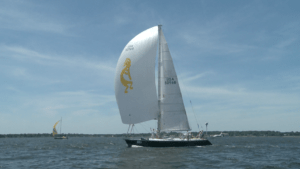 Day 1: Sailing Down the Chesapeake Bay
Friday June 10
1130–1230
Serenaded by a bagpiper aboard the committee boat, Sister Mary Catherine, Arcadia and crew joined the parade of yachts on review around Spa Creek—in the shadow of the Naval Academy—boats in parade dress, ceremonial flags flying. After warning the other participants, we fired a report from our impressive signal cannon on our way out to the staging area and the starting line.
1330
We timed our start perfectly and conditions and winds were right for an immediate spinnaker set. An very unfortunate wrap in the sail delayed deployment and we lost several minutes to the pack. Just what you don't want to have happen, especially when you having colleagues video tape your start. Our faster cluck was memorialized. It's a long race, so we are confident we can make up the time. Boats scattered quickly some taking the western lee shore and some heading to the eastern side of the bay matching wits with a fickle wind. The site of the seven boats in our flight heading down the bay with spinnakers flying was quite a site. Hopefully we got some good footage, despite the mishap.
2100
The first mate, Alison, on this the first evening of the trip suggested that the port side settee, with the lee cloth (designed to keep you from rolling out, is by far the most comfortable bunk in heavy weather. She said she slept like a baby! Ha ha except when, like a hail storm, the cereal bars decided to exist en masse, the storage baskets secured above her. Shooting free throw, she could be see tossing the bars back into the baskets from her prone position.