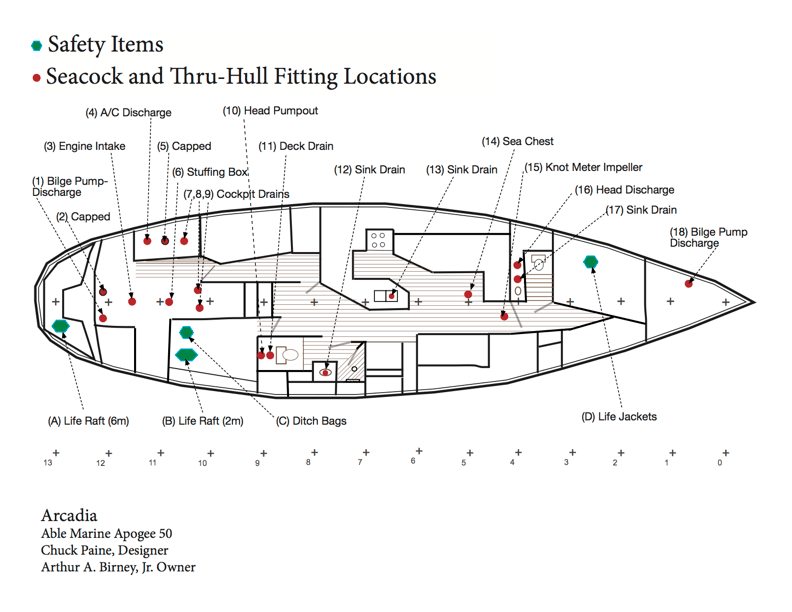 Thursday, June 9
Beautiful day, light winds out the the NW
Sailing to Bermuda, by ancient mariner standards, may not be a treacherous journey, but 600 miles of open ocean is always an adventure — and there is no substitute for preparation. I have to say the excitement is palpable now, and that sense of adventure really set in today.

The Arcadia crew gathered at 1000 on board, and after stowing personal gear, we had a manditory safety briefing with the Skipper. Personal floatation and safety harnesses were fitted and checked. We reviewed the location of the two inflatable life rafts and survival "ditch bags" containing flares and various survival essentials. I had prepared a diagram of the boat of the Skipper locating all of the thru-hull fittings and critical safety items including two EPRIBS, Emergency Position Indicating Radiobeacon. The drawing gives you a sense of the layout of the boat.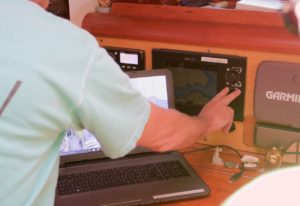 For drills, we divided into our watch groups — each member is on watch for three hours with six hours off. A new watchman rotates in every hour giving variety and continuity. It's a great time to really get to know your fellow shipmates. For man overboard drills, one person is designated to keep eye and voice contact with the "swimmer" at all times, calling out the location to the helm. The life ring is immediately thrown and the MOM deployed. The MOM is a rescue platform, complete with an inflated arm that elevates an activated strobe light. The idea is that swimmers are instructed to try to get to the MOM and the boat.
There being no volunteers, we threw a boat cushion to over the side to simulate. Depending on conditions, a series of maneuvers are implemented to bring the boat about and get down wind of our crewman. That one important step is for a designated crewman on watch to hit the man over board. Buttons on the navigation system drop a waypoint immediately. In a big wind and rough sea, contact can be lost in a heartbeat. I have my own PLB, a personal locator beacon attached to a satellite network and the Coast Guard. This is attached to my life jacket.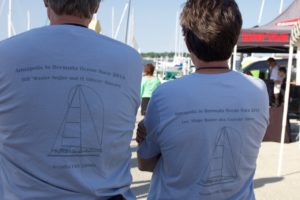 Nice send off party at the Eastport Yacht Club a little photo opportunity with our custom T shirts.
I'm the "Master Angler and IT Officer."