As Tropical Storm Colin rolls up the east coast and blows out to sea, our final preparations are underway for the 20th running of the Annapolis-Bermuda Ocean Sailing Race. The official start is 1340 on Friday, June 10. The good ship Arcadia, my lifelong friend Lex Birney's 51-foot Able Marine Apogee, is totally ready! Captain Lex has been hard at work over the last six months getting a lot of details shipshape. Last but not least, she was hauled one more time, and the bottom was cleaned yesterday. She is squeaky clean, looking sleek, and fast.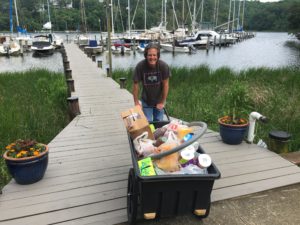 We braved the Sam's Club scene, and laid in provisions this past weekend, for Arcadia's hale and hearty race crew of 8 that will gather Thursday for a shakedown and mandatory safety briefing and man overboard drills. We anticipate 4–5 days for the passage, but if we can blow out of the Bay in a hurry, we could find some pretty favorable winds. That's still 40-man (and woman) days of food.
The skipper allowed me to make a minor enhancement to the cockpit roof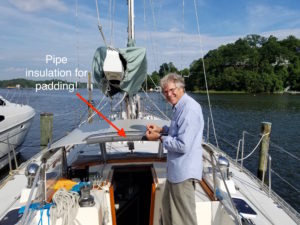 and companionway, adding a piece of adhesive pipe insulation across the leading edge. For us tall guys, I have found that it is not the boom that will get you. The cowling has creased my forehead more times than I can count—or at least remember.
We will be posting a daily sailing blog on these pages and for those who want to check out the leader board, all boats have special transponders and the race committee has set up a special website for realtime tracking for the duration of the race. Look for the Arcadia out in front.