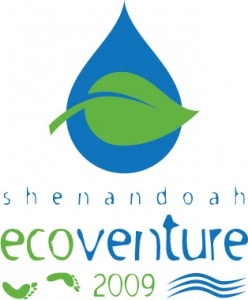 WINCHESTER, VA (July 16, 2009) – The Downstream Project, a non-profit organization founded to inspire solutions to ecological issues, and Shenandoah University have collaborated to launch Shenandoah EcoVenture 2009.
This fall, five Shenandoah University students and Faculty Leader John Copenhaver will join The Downstream Project field crew as mountains, trails and the Shenandoah River become a classroom. The group will engage in extensive journaling and document its adventures and research in "real time" using Apple's™ environmentally friendly MacBooks and the latest in Web-based technologies which will allow anyone with access to the Internet the opportunity to share in the EcoVenture experience.
The Downstream Project's Creative Media Director and Filmmaker George Patterson will capture the Shenandoah EcoVenture 2009 in high definition video for use in the creation of a new documentary, which will follow last year's successful release of "Shenandoah: Voices of the River." After viewing the film, Shenandoah University President Tracy Fitzsimmons met with Patterson and The Downstream Project Founder and President George L. Ohrstrom II to discuss partnership possibilities that combined the missions of both organizations, and the idea for Shenandoah EcoVenture 2009 was born.
After a month of orientation and planning, the group will undertake the inaugural trip in October. Incorporating rigorous study and research, the journey will start by hiking the Shenandoah National Park section of the Appalachian Trail and return by paddling the Shenandoah River. The students will report their observations to groups back on SU's main campus as well as local high school classrooms via video conference. Students will conduct experiments throughout the trip that will help anyone following the EcoVenture project to learn more about the ecosystems of the Shenandoah River and Shenandoah Valley and the challenges they face. They will also assist Patterson with the production of the documentary as student journals will provide much of the story line.
Over the course of the semester, EcoVenture students will earn 12-15 credits, some elective and some toward their majors, as tailored by their faculty advisors and Professor Copenhaver. One of the strengths of the EcoVenture will be the close collaboration among students in diverse majors. and tailored by faculty advisors and Professor Copenhaver toward each student's individualized course of study.
"The Shenandoah EcoVenture combines so many of my interests, skills, and passions. It encompasses my love of the Shenandoah River and my concern for its health, my skills in mentoring students and my passion for caring for the earth, which is a passion deeply rooted in my faith," said Copenhaver, a professor of religion and philosophy. "The EcoVenture will, literally, be charting new waters at Shenandoah University. It will incorporate innovative teaching practices already used at Shenandoah University—experiential learning, the latest technology, service learning, and multi-disciplinary perspectives—and add the dimension of an outdoor physical challenge.
Copenhaver explained that part of his role as faculty leader is to create elective courses that will enrich the EcoVenture and also keep students on track with the coursework in their programs of study. Proposed courses include: Adventure Trekking (Kinesiology); Media Communications for the EcoVenture (Mass Communications); Religion and Ecology (Religion); and Nature, History and Culture of the Shenandoah Valley Region (Geography).
In 2004, Copenhaver participated in the Shenandoah Sojourn, a program that draws attention to Shenandoah River health and water quality by paddling a new section of the river each year from Port Republic, Va., to its confluence with the Potomac River in Harper's Ferry, W.Va., and in 2006, he served as a captain or "paddle bearer" for the event.
"In many ways, the EcoVenture seems like a logical next step for me. I'm grateful for this opportunity to unite my environmental concerns with my academics at Shenandoah University," Copenhaver said. "I also look forward to communicating about the EcoVenture with our many constituencies: alumni, students, faculty, public schools, faith communities and other interested colleges and universities."
The focus of The Downstream Project is to increase awareness of environmental issues at local and regional levels and how they cumulatively affect us globally. As the saying goes "we all live downstream." The group believes in fair, open and responsible communication on relevant topics that will foster alliances toward a sustainable future. In the words of The Downstream Project Founder George Ohrstrom, "the hope is that people will educate themselves and stand up and become a voice for downstream issues because they are exceedingly important to all of us." For information, visit www.thedownstreamproject.org.
Shenandoah University is a comprehensive private university with an enrollment of more than 3,300 students in six schools: College of Arts & Sciences, Harry F. Byrd, Jr. School of Business, Shenandoah Conservatory, Bernard J. Dunn School of Pharmacy, School of Health Professions (Athletic Training, Nursing and Respiratory Care, Occupational Therapy, Physician Assistant Studies and Physical Therapy) and the School of Education & Human Development. The university offers nearly 90 programs of study at the undergraduate, graduate and doctoral levels. For more information, contact the Public Relations Office at (540) 665-4510 or visit www.su.edu.