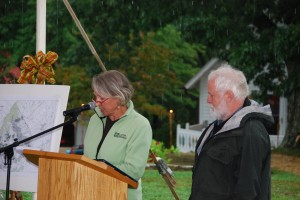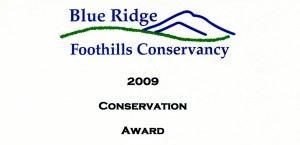 George Ohrstrom, founder and president of The Downstream Project, was the keynote speaker at the Blue Ridge Foothills Conservancy Annual Meeting in Stanardsville, Virginia last night complete with great food, music by the Possum Ridge String Band, and some great pies. Conservancy President, Trish Crowe presented George with a well-deserved 2009 Conservation Award.
The citation reads:
George Ohrstrom became active in natural resources protection two decades ago in the Shenenandoah Valley. His interest has led to serving on the Clarke County Easement Authority and as Chairman of the Clarke County Planning Commission. He serves on the boards of the Piedmont Environmental Council and the Virginia League of Conservation Voters. He is also President of the Friends of the Shenandoah River.
He is Founder and President of The Downstream Project, a non-profit organization founded to inspire individuals and groups to initiate solutions to ecological issues that threaten their communities. With focus on water conservation, The Downstream Project has produced an acclaimed documentary, "Shenandoah, Voices of the River." The Project is launching new efforts to educate and engage the citizenry in furtherance of the Project's mission of promoting: "fair, open, and responsible communication on relevant topics that will foster alliances toward a sustainable future."
George's commitment to conservation and his insights and organization skills in bringing the conservation message to new audiences by innovative ways is highly to be commended.
Given this day, September 26, 2009
Trish Crowe, President
Blue Ridge Foothills Conservancy