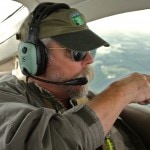 "The truth is in the sky," a quote by Tioga County Planning Director, Jim Weaver, sums up our expedition last weekend to Frack Country in north-central Pennsylvania with our project partner, SkyTruth. Jim was our spotter as the Downstream camera crew flew with volunteer LightHawk pilot, Jamie Gamble, on a 3-hour flight over threatened forest land in 4 counties.  Jim described the view from 3,000 feet as life-changing and we would have to agree.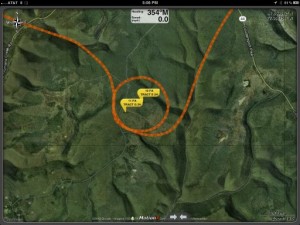 Utilizing a gps-enabled Canon 7D and an iPad with an external GPS programmed with waypoints of drilling sites, Downstream executive director, Bill Howard, was able to map 700 geo-coded images of over 22 permitted Marcellus Shale fracking sites in various stages of development. George Patterson videotaped the action inside and out of the aircraft, and captured the colorful and informative cabin audio during the overflight.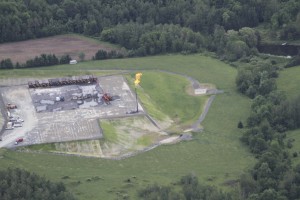 SkyTruth and The Downstream Project were invited to present our mission to the Pine Creek Watershed Council where we showed them aerial photos from the flight. During that meeting the council was able to identify from the photos a previously unknown chronic water pollution problem, and also a suspected permit violation at the site of a gas pipeline compressor station.
Read more about our mission on the SkyTruth blog.
Here are a few images and a sample map. We will share more photographs and a video journal through the SkyTruth blog.
(Special thanks to our host, Bryn Hammerstrom of the Pine Creek Waterdogs, for his arrangements and hospitality.)
Photographs by the Bill Howard, The Downstream Project (aerial support by LightHawk)
[AFG_gallery id='2′]