The Chesapeake Bay Foundation (CBF) has set some New Year resolutions for the federal government: buff up (riparian buffers, that is) and stop the smoking (from the Ohio Valley).

CBF made their recommendations to the federal interagency committee overseeing President Obama's 2009 Executive Order on Chesapeake Bay restoration and protection. That order requires USDA, EPA and other federal agencies to develop a coordinated strategy for restoration and set milestones for progress along the way. But despite increases in conservation farming practices throughout the watershed and unexpected gains from improvements in air quality in recent decades, the region is still off track for meeting the 2025 restoration goals in these two categories.

What gives? USDA reported last month that, between 2006 and 2011, farmers in the Bay watershed increased conservation practices that keep nitrogen and phosphorus on fields and out of waterways. These included so-called structural practices such as terraces and contour farming as well as forested riparian buffers. But restoration plans in each of the six Bay states rely on buffers in particular to reduce nutrient runoff – a total of 185,000 additional acres of forest buffers by 2025, or more than 14,000 acres per year. Forested buffers are one of the most cost-effective ways to reduce the level of nutrients entering water according to Dr. Beth McGee, CBF's Senior Water Quality Scientist, and they provide multiple other environmental benefits including shading streams and storing carbon. But in 2012, only about 2,000 additional acres in the Bay watershed were converted to forest buffers.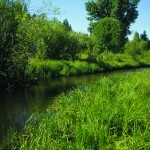 The feds aren't the only players when it comes to buffers – state agencies, individuals, and nonprofit groups also play a critical role — yet the federal Conservation Reserve Enhancement Program (CREP) provides valuable help by funding farmers to make the shift and offering technical assistance on how to do so. McGee would like to see more dollars available to USDA to recruit new farmers and provide even greater assistance. CREP has been comatose since the Farm Bill expired in October. Even if Congress passes a new Farm Bill this winter – as many hope they will – funding is likely to be lower than in the past, not higher. Bay supporters will need to find other ways to fill that gap.
EPA has a different gap to fill: When calculating water quality standards known as TMDLs (for Total Maximum Daily Loads), EPA included future nitrogen reductions from coal fired power plants in the Ohio Valley expected under new clean air rules. But those rules have been challenged in court and remain in legal limbo. So CBF is turning to the Clean Water Act to clean up the air as well. They believe a 2009 court case allows EPA to identify power plants and other major emitters as point sources of water pollution, adding nitrogen oxides to the atmosphere that then rain down on the Bay and its tributaries. If implemented, this would be a novel application of the Clean Water Act's point source provisions. Regardless, McGee says EPA and USDA both could do more to reduce nitrogen emissions from large poultry houses and animal waste lagoons. Ammonia from these facilities contributes as much as one-third of the nitrogen entering the Bay from the air.

It's unclear how federal agencies will respond to these recommendations and what 2014 will mean for Bay restoration. One thing is clear: Restoration is a complicated, multifaceted process requiring regular progress on all fronts.