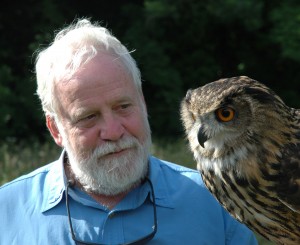 Posted March 24, 2014
By Val Van Meter, The Winchester Star
reprinted with permission
BERRYVILLE — Unlike other sports which need an arena, or a field or even a court, fox hunting can only be pursued over large stretches of open land.
That's one reason why The Chronicle of the Horse magazine and the Masters of Foxhounds Association Foundation present an annual "Hunting Habitat Conservation Award."
This year, George L. Ohrstrom II of Clarke County received that Waterford crystal bowl for his years of dedication to land conservation, just one of the forms of resource preservation which has become a significant part of his life.
Ohrstrom was nominated for the award by the Blue Ridge Hunt.
Ohrstrom is a social subscriber to the hunt, said hunt co-master Linda Armbrust. He doesn't take part in the sport but he helps support the hunt and hunt functions.
Most importantly, Ohrstrom opens his land to the hunt members.
Ohrstrom owns 500 acres in Clarke County, all of which is protected from development by conservation easements.
A 150-acre tract, off Pyletown Road, is "right in the midst of our prime hunting country," said Armbrust. "It is 'well-foxed,'" Armbrust added, offering habitat for all sorts of wild creatures, because Ohrstrom does not allow it to be grazed by livestock. "He's been very generous about letting us go."
Without such large tracts of land, and landowners willing to let the hunt cross, the sport could not take place in Clarke, Armbrust said. Other hunts, east of the Blue Ridge, have had to move their territories because of the loss of open land to development.
But this is just a small and personal part of Ohrstrom's efforts to preserve open space.
After his marriage in 1983, Ohrstrom moved to Clarke from Fauquier County to find a small farm.
He became interested in land issues when Frederick County began planning the eastern leg of the Va. 37 bypass around Winchester.
Ohrstrom's farm was less than a mile north of Harry Byrd Highway (Va. 7) where it crosses the Opequon Creek in Clarke, so he wanted to know what impact the new road, west of that stream, would have on his land.
His concern about how rampant residential development would hurt the Opequon's water quality led him to join his first environmental group, The Opequon Watershed.
"Conservation became my second career. I got more and more into water quality issues," he said.
Ohrstrom joined the Friends of the Shenandoah River (FOSR), an organization that has, since 1989, tested water samples from 150 miles of the river and streams that feed it from Port Republic to Harpers Ferry, W.Va.
That information is made available to local governments to show them what is happening with the water quality in their jurisdictions.
Ohrstrom is currently the chairman of the FOSR board, guiding policy and raising money to keep the all-volunteer organization functioning.
He soon realized that local governments can have a big impact on water quality through land conservation.
He took a seat on the Clarke County Planning Commission in 2003 and is now its chairman.
He also serves on the Berryville Area Development Authority, which controls development in the areas of the county which will one day be annexed to Berryville.
Ohrstrom is also currently chairman of the Clarke County Conservation Easement Authority, a post he took over from Wingate "Winkie" Mackay-Smith, who had headed the panel since it was formed in 2002.
"She's a real mentor to me," Ohrstrom said.
"He is really involved on many fronts," said Mackay-Smith of Ohrstrom's work.
Having him move into the chairman's seat on the local easement authority "was a great comfort to me," Mackay-Smith said. "He is extremely interested in all types of conservation. Like Superman, he's everywhere."
Ohrstrom said he's focused on preserving agricultural land and open space for what it does for the community.
"It's all about the quality of natural resources left for the next generation — and the next. Will they have clean air? Will they have clean water?"
Ohrstrom operates on a regional and state level through the Piedmont Environmental Council.
The non-profit organization works with local governments to the east of the Blue Ridge and in the Shenandoah Valley to promote land and resource protection.
"He's a great supporter," said PEC President Chris Miller. "He's a contributor, a volunteer, a board member and now co-chairman."
Miller said Ohrstrom is an inspiration to the PEC staff because "he leads by example. He follows the policies we recommend to others. It's not just an intellectual exercise. He practices what he preaches."
Miller noted that Ohrstrom installed both wind and solar power generators on his land to use and promote renewable energy.
Ohrstrom, who was just in Richmond to talk to the new administration, said Gov. Terry McAuliffe has agreed to continue pushing for his predecessor's goal of having 400,000 acres in the state under easement.
Ohrstrom said Molly Ward, McAuliffe's Secretary of Natural Resources, has offered to work with PEC to reach that goal.
The world of conservation also has a new partner, thanks to Ohrstrom: The Downstream Project. As he likes to reiterate, "Everybody lives downstream."
He founded the non-profit organization to help all conservation groups to get their message out to the general public using social media and the Internet.
The idea sprang from a film Ohrstrom sponsored, "Shenandoah, Voices of the River," according to executive director Bill Howard.
The Downstream Project has created videos on a number of conservation topics and is also building web sites for various organizations.
"Mr. Ohrstorm had a secondary purpose in founding the Downstream Project," Howard said. "He uses it as a vehicle for fostering alliances and working in concert with other conservation organizations."
His organization has formed a community partnership, called C Spout Run, with several regional groups to create a model clean up and restoration project on the Clarke County stream.
"The partnership was recently awarded a large grant from the National Fish and Wildlife Foundation to continue this work" said Howard, which aims to remove the stream from the state's "impaired waters" list.
"I hope The Downstream Project will become a lasting legacy for him" said Howard, "and his commitment to the environment."
(reprinted with permission of The Winchester Star)