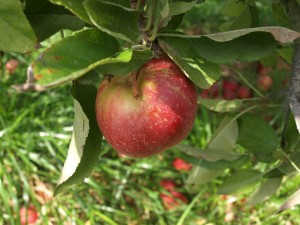 This past weekend, our local farmers market reopened for the season in Shepherdstown, W. Va where many of us on the Downstream team live. From now until December, locavores can follow the seasons with fresh food grown in nearby fields and orchards, support open space, and reduce the high fossil fuel footprint of transporting food across continents and oceans. In our neck of the woods, that means cool weather stir fry and salad greens for now, fresh eggs and cheese, homemade jams and a basketful of last autumn's apples that weathered the icy winter in the comfortable chill of a root cellar. Soon, we'll enjoy spring onions, new potatoes and asparagus; and not long after that strawberries and green beans. The list goes on for months from there, through the peaches, tomatoes and basil of summer into the apples and squashes of fall.
Throughout the Shenandoah Valley, Chesapeake Bay region, and the entire United States, farmers markets are becoming an increasingly popular way to eat healthy food while supporting local businesses. A few months ago (while dreaming of this weekend's opening day) we shared an interactive map that allows anyone, anywhere to find local food outlets – including farmers markets, CSAs (Community Supported Agriculture programs), restaurants and shops – near their home. Now that spring has sprung in the Downstream region, we share some more specific listings to help you find markets in the region, and celebrate what good soil, clean water and plenty of sunshine can provide.

Shenandoah Valley: Buy Fresh, Buy Local prepared by the Virginia Cooperative Extension Program
Washington DC: DC Wishbook and the greater DC metro area: FreshFarm Markets
Baltimore: Visit Baltimore
West Virginia: WVFarm2 U
Delmarva: Local Eastern Shore Organic Network
This isn't a comprehensive list, so check out the LocalHarvest map if you need something closer to home.