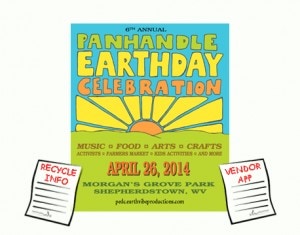 Earth Day officially falls on April 22, but West Virginia's Eastern Panhandle will be celebrating its annual Panhandle Earth Day Celebration on Saturday, April 26 at historic Morgan's Grove Park in Shepherdstown. As you listen to the bands performing on stage, and wander among all the booths and tents hosted by local artists, businesses, foodies and others, keep your eye out for the slew (or is that slough?) of local watershed groups coming together at the watershed tent to help keep our water clean and healthy. It's a big tent (figuratively and literally) with lots of information and opportunities to get your hands wet.
Some highlights:
• Join one of the interactive demonstration sessions held by West Virginia Conservation Agency at 12 noon, 2 pm and 4 pm to help people of all ages, languages and cultures better understand the sources and prevention of water pollution through visual, hands-on interactions. Enviroscape makes the connection between what we do on Earth, and the impact on the environment.
• Help the Sleepy Creek Watershed Association and Warm Springs Watershed Association analyze the creepy-crawly critters found on stream beds to figure out if a stream is healthy or polluted.
• Learn how basic chemical testing is performed with samples from Shepherdstown's Town Run with the Blue Ridge Watershed Coalition, Elks Run Watershed Group, and the Friends of the Shenandoah River.
• Forget the GPS and find your watershed on maps provided by the Jefferson County Water Advisory Committee and the Blue Ridge Watershed Coalition to learn where in the world your local water starts, and where it flows.
• See a demonstration of low-level aerial photography from The Downstream Project's 5-foot helium balloon.
• Become a movie star, by appearing in Downstream's video of the day's watershed events, to help promote next year's Earth Day Celebration and the efforts of all the participating watershed groups, including the Upper Potomac Riverkeeper and Bullskin Run.