This past spring, we blogged about a federal study demonstrating how oyster replenishment could eliminate nitrogen pollution in the Potomac River estuary. Now that it's summer, the news is filled with encouraging stories of oyster restoration projects throughout the Chesapeake Bay.
Josh Bollinger of The Star Democrat in Easton, Maryland recently reported on replenishment efforts in Harris Creek, where last Friday the Chesapeake Bay Foundation (CBF) and the Oyster Recovery Project (ORP) deposited 15 tons of old oyster shells with live spat (oyster larvae) on top of granite platforms placed by the U.S. Army Corps of Engineers. The idea is to recreate the once abundant oyster reefs of yore, restock them with baby oysters and give oysters a chance to settle, grow up and reproduce before they end up on our plate. In the meantime, those oysters will help filter out the sediment and nutrients that can smother reefs and harm other Bay creatures.
It's all part of Governor Martin O'Malley's 2010 oyster restoration plan targeting 10 rivers and tidal creeks for restoration, promoting oyster farming, and creating partnerships among state and federal agencies and nonprofits such as CBF and ORP.
According to The Baltimore Sun's Tim Wheeler, Harris Creek and the Little Choptank River were the first sites targeted for restoration. Now, researchers are undertaking preliminary sampling at a third location: the Tred Avon River. Wheeler recently went out on the water with scientists from the National Oceanic and Atmospheric Administration, not to spread spat but to sample fish. The scientists were comparing differences in the number of fish and crabs they captured over bare river bottom, with what they captured over the few remaining oyster reefs. Short answer: not much. But they're optimistic that once restoration efforts are complete – with an estimated 191 acres of new reef seeded with 860 million spat bred at the University of Maryland's Horn Point Laboratory,– crabs and fish will return.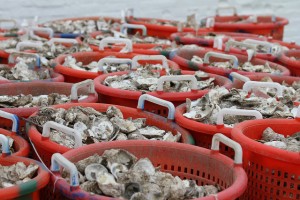 In Virginia, Governor Terry McAuliffe's office announced this week that Virginia's most recent oyster harvest surpassed 500,000 bushels, a 25 percent increase from the previous year and the most in almost a generation. The governor's office attributes this, at least in part, to Virginia's own oyster replenishment program. That program takes oyster shells once buried beneath the sediment in places like the James River and elsewhere, and deposits them in promising locations downstream to help recreate reefs. The hope is that reef creation, combined with rotating harvest areas, will give oysters a foothold for future growth.
Recent harvests are encouraging – up from lows of less than 20,000 bushels at times in the 1990s. But historic figures released by the governor's office also show how far we are from the Bay's former bounty: in the late 1950's Virginia harvested several million bushels per year. And Baywide, oyster levels are still only about 1 percent of they once were centuries ago. For now, we'll take the encouraging news coming out of both Maryland and Virginia and keep our eyes on the prize of even greater harvests in the future.