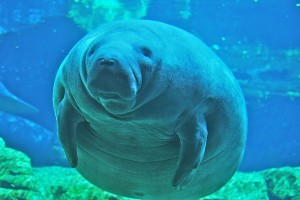 To the uninitiated, the forests of Pennsylvania have no connection whatsoever with the manatees of Florida. After all, they're separated by a thousand miles. The forests are on land, the manatees in the water. But both were in the news this Halloween week. Pennsylvania forests made regional news because Governor Tom Corbett approved legislation reducing streamside buffer requirements in the state from 150 feet to 100. Florida manatees (and other Indian River critters) made national news because of the strange cascade of ecological events occurring throughout the state in recent years. Though seemingly very different, both stories illustrate one of the biggest pollution challenges Americans face today: excess nutrients overloading our waters.
Pennsylvania had enacted its previous buffer rule in 2010 to reduce nutrient and sediment runoff into its streams and rivers – a wise move according to many experts. Forest buffers separating construction projects and farm fields from waterways are one of the most cost effective ways to keep runoff from rushing into nearby streams and rivers when it rains, carrying nitrogen and phosphorus from fertilizer, manure, and sewage with it. They're a central part of the "pollution diet" adopted by Virginia, Maryland, Pennsylvania and other states in the Chesapeake Bay watershed as part of the Chesapeake Clean Water Blueprint.
Under the new law signed last week, developers can opt for a 100 foot buffer in state-designated high quality and exceptional value watersheds, according to the Chesapeake Bay Journal, if they construct other stormwater control practices as part of a project. But environmental groups maintain that other measures won't provide the additional in-stream habitat benefits that buffers do. The Pennsylvania Fish and Boat Commission opposed the change according to the Journal. So did the former head of Pennsylvania's Department of Environmental Protection, David Hess, who served under two previous Republican governors. Most Bay states have increased their forested buffers in recent years – a good sign. But last winter, the Chesapeake Bay Foundation estimated that the watershed won't meet the 2025 targets outlined in blueprint pollution reduction plans at current rates. To meet those targets, watershed states (combined) need to convert an average of 14,000 acres per year to forested buffer. In 2012, they converted only 2,000 acres.
The effects of excess nutrients on waterways throughout the United States are often frighteningly predictable: annual dead zones in the Chesapeake and Gulf of Mexico, slimy algae on the Shenandoah River, and tainted drinking water in Lake Erie. In Florida, the effects have been a bit more bizarre: According to an article by Joby Warrick and Darryl Fears in Monday's Washington Post, Florida's Indian River Lagoon is now glowing with an eerie bloom of bioluminescent algae that makes its famed manatees look like space creatures. This just a few years after a massive "brown tide" in 2011 choked out seagrass beds, forcing manatees to switch their diet to toxic seaweed and killing off dozens of them. According to the Post article, scientists believe that years of excess nutrients flushed into Florida's waterways – largely from leaking septic tanks — have built up a layer of polluted sludge at the bottom of many of them, with deadly ripple effects up the entire food chain.
That's the problem with nutrients – they're invisible until they're not. At some point, their impacts become impossible to ignore. Recognizing the connections now, can prevent scarier problems down the road.