We're not sure how the weatherman would describe the Panhandle Earth Day Celebration on April 26, but we're calling it a success despite the occasional strong gusts of wind on an otherwise mostly sunny and warm spring day. Downstream Executive Director Bill Howard, videographer Nancy Sanders and Willis Nowell of the Blue Ridge Watershed Coalition managed to capture the day in images, with just a few concessions to the unexpected bluster.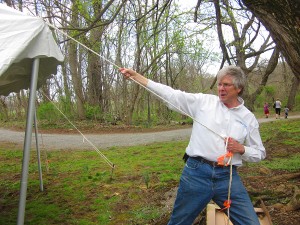 Thar she blows! Bill Howard wrangles the watershed tent, which showcased maps, brochures and other materials from local groups including Friends of the Shenandoah River, Elks Run Watershed Group, Blue Ridge Watershed Coalition, and the Jefferson County Farmland Protection Board. Mary Sell of the Jefferson County Water Advisory Committee and Susan Jones and Norman Dean of Sleepy Creek Watershed Association joined Bill to answer questions and talk water with Earth Day visitors.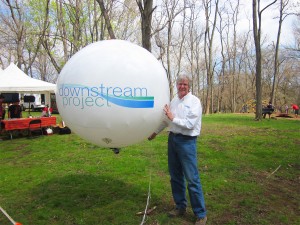 Now for the tough part – getting Downstream's 5-foot helium balloon to cooperate in the wind and capture the scene from the air.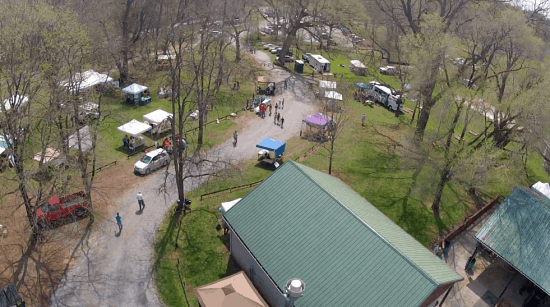 It works! And visitors start arriving at Morgan's Grove Park outside Shepherdstown, WV.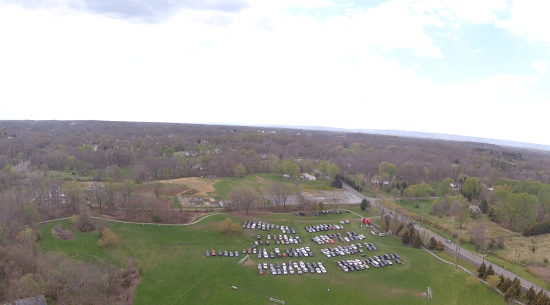 The balloon gets higher and the parking lot fills up.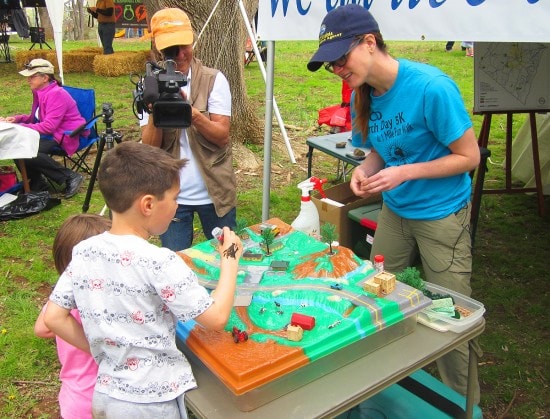 Meanwhile, back on the ground, Suzy Lucas of the West Virginia Conservation Agency walks kids through Enviroscape, where they learn about how to create green, sustainable communities. Downstream videographer Nancy Sanders captures the scene to help Downstream partners promote their activities and events in upcoming videos.
(This post was modified June 27 to include our video above.)