Winter brought us the MCHM spill in the Elk River near Charleston, West Virginia and the coal ash release into North Carolina's Dan River.  Suddenly, spring seems just as frightening. Last week, a CSX train carrying crude oil derailed in Lynchburg, Virginia, shooting flames into the air and releasing an estimated 30,000 gallons of crude oil into the adjacent James River. Just a day later, another CSX train derailed near Bowie, Maryland dumping several containers of coal onto the ground.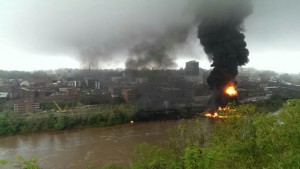 Thankfully, the James River derailment didn't affect Lynchburg's drinking water, according to news reports, and officials were able to warn Richmond and other communities directly downstream to shift to other sources if necessary until the pulse of oil flowed past on the fast moving river. The Bowie derailment doesn't seem to have affected drinking water either (although few details have emerged in the media about this accident, perhaps because the Lynchburg spill offered a much more dramatic story) and no one was killed in either incident. But it does kind of make you wonder: Why are all these accidents happening now? And, for those of us who live in the Mid-Atlantic: Why are they happening in my back yard?
It's hard to find a specific common denominator in this winter's regional disasters. Commentators and advocates blame West Virginia's MCHM spill in large part on lax environmental rules that allowed a chemical storage facility to sit upstream from the capital city's water intake and avoid tank inspections by state and federal regulators. Many also blame an impotent Toxic Substances Control Act (TSCA) – the federal law covering industrial chemicals like MCHM – for the confusion among public health officials about when it was safe to drink the water.  In North Carolina, the state Department of Environment and Natural Resources recently charged Duke Energy with violating state and federal stormwater and wastewater requirements after facing public criticism for being too lax on polluters.
Yet a quick read through recent news reports shows that last week's James River disaster reflects a dangerous national (even continental) trend: Other trains carrying oil have derailed in recent months, including into Philadelphia's Schuykill River in January and in western Pennsylvania in February.  Just one week before the Lynchburg derailment, railroad representatives testified before the National Transportation Safety Board (NTSB) that current standards for carrying oil are inadequate.  The industry itself adopted stronger tank standards in 2011, after realizing that the older models could puncture too easily. But with a recent surge in Bakken oil production, some companies still rely on older tanks to meet the growing demand for North Dakota crude. And railroads and safety officials acknowledge that even the post-2011 cars are inadequate. According to news reports, 14 of the 17 rail cars that released oil into the James River were newer models.
Two other fiery train accidents – including a December derailment in North Dakota and a deadly disaster that killed 47 people last July in the town of Lac Megantic in Quebec — prompted the NTSB to call for greater precautions in conjunction with the Transportation Safety Board of Canada. In doing so, it noted that crude oil transport by rail has increased 400 percent since 2005 but safety measures haven't kept pace. The Department of Transportation reportedly submitted proposed new rail car standards to the White House for review soon after the James River accident.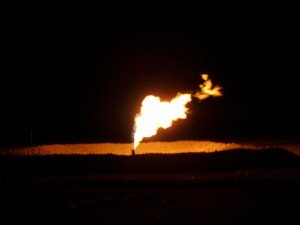 NTSB and others worry about crude oil from North Dakota's Bakken shale deposit for two reasons: One, it's more flammable than many other kinds of oil and, two, the hydraulic fracking boom in North Dakota has rapidly increased the amount of Bakken oil traveling in rail cars across the country to coastal ports – from 10,000 carloads in 2009 to 400,000 in 2013 according to National Public Radio. The train passing through Lynchburg was on its way to an oil transfer terminal in Yorktown, Virginia that has become a regional hub for shipping North Dakota oil to East Coast refineries. In fact, in a March letter to Admiral Robert J. Papp Jr. of the U.S. Coast Guard, the Chesapeake Bay Foundation expressed concern about the estimated 800 trains, each expected to carry 60,000 to 65,000 gallons of oil, traveling into Yorktown annually in coming years. It urged the Coast Guard to evaluate the risk of oil spills and its readiness to deal with them.
As reporter Curtis Tate of McClatchy news service notes, rivers are particularly vulnerable to rail accidents because so many major lines were built along gentle river grades to ease transport.  Rail lines along the James River, New York's Hudson River and the Pacific Northwest's Columbia River serve as major routes for shipping interior crude to coastal facilities and opposition along these routes is now growing.
Safety and drinking water are major concerns, of course, but there's also river life itself and the health of ecosystems downstream. The spring rush of high water in the James River might have flushed most of the 30,000 gallons of spilled oil downriver, but pollution like that doesn't just disappear. It lingers on the banks, smothers vegetation and enters the food web. As Pat Calvert of the James River Association told Tate, his organization measured an oil slick 17 miles long on the river after the accident. They'll
keep monitoring the river in coming weeks and months to track environmental impacts – particularly on vulnerable shad and herring — long after the flames have died, the tracks repaired, and hundreds of other trains start speeding along the James once again.